Weddings
Thank you for considering your wedding at Joy Ridge Event Center!
At Joy Ridge, we are all about sparking joy and making memories.
We are a family owned and operated business, dedicated to making your event extraordinary.
We will work with you to fully customize your wedding package to meet your wants and dreams.
Venue
Newly renovated and updated space with elegant and versatile style
Ballroom, lobby, lounge
Large outdoor patio with seating
Fully wheelchair accessible and ADA compliant
Climate controlled building with HVAC system – Perfect for all seasons
Fully accessible, clean bathrooms, with multiple private stalls
Accommodate up to 300 guests
Private space – no other events on site during your wedding
Ballroom
Large open ballroom
Table and chairs can accommodate up to 277 guests
Different seating arrangements available
Head table available and can accommodate up to 14
Tables and chairs set up by Joy Ridge staff
Lounge
Additional seating available – can accommodate up to 77
Limited visibility to the head table
Easy access from the ballroom
Full bar – Bartenders provided for your event
Cash bar – guests pay for own drinks using cash/card
Other bar options available
Patio and Outdoors
Large outdoor patio with seating
Easy access from the ballroom
Lawn space and yard games available
Prep Kitchen
Warmer, prep space, refrigerator, freezer, ice machine
Easy access for your caterer – loading driveway/dock
Easy access to the ball room and lounge
Entertainment
Room for bands / DJs
Sound system with speaker and microphone
Dance area
Easy access for unloading/loading equipment with loading driveway/dock
Also included
Free parking and parking attendants as needed
Private bathroom available for the bride
Floral cooler on-site
Lockable room for storing gifts
Joy Ridge Event host on-site
Additional Information and Add Ons Available
On-Site Ceremony
Joy Ridge can host just your dinner and reception, or your ceremony and social hour as well! There are indoor or outdoor options for ceremonies, if the weather cooperates.
Rehearsal Dinner / Gift Opening
If you would like to rent space the day before for a rehearsal/rehearsal dinner, we will work with you to offer a discounted rental rate, depending on availability. You may also rent space on Sunday afternoon for a gift opening or second reception at a reduced rate. We do book weddings on Fridays, Saturdays and Sundays, so this option is based on availability.
Bridal Suite/Ready Room
We have a newly remodeled "Bridal Suite" or "Ready Room" for the bride and bridesmaids – or the couple – to get ready, take pictures, and prepare for the day. The Ready Room has a lockable, private bathroom.
Decorations
You may bring your own decorations and centerpieces, or for a small rental fee you may browse and choose from our decoration "Inspiration Room." Decorating services are also available. Our event staff can work their magic to decorate the space with your decorations or ours, creating the look and ambiance of your wedding dreams. Decorating services must be hired in advance, based on availability.
Photo Booth
Capture those magic memories and get them printed out on the spot! Frames can be personalized with your names and wedding date. Each snap session produces 2 strips of prints; one keepsake for your guests, and one for your guest book! Photo booth comes with a box of props and an attendant to help things run smoothly. Option to purchase a memory/guest book through us with gel pens and table set up for guests to insert their photos with a message/signature.
Linens & Table Settings
Linens (tablecloths and napkins) may be available through your caterer, or may be rented through us.
---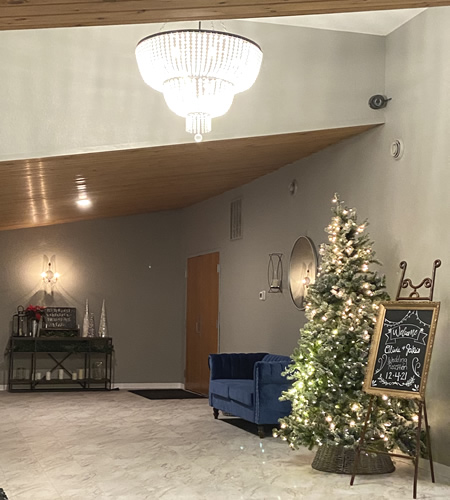 Dining Options
We have a fully equipped prep-kitchen ready for your caterer. You may choose any catering company you'd like. We'll work with them to make sure everything is in place for your event. Food trucks are also welcome.
Options for Serving Alcohol and Beverages
Joy Ridge has its own liquor license; all alcohol consumed on the premises must be served through our bar. Bartenders are generally included in the price of your wedding rental, If you have a specific request for beer or wine or a signature drink, we are happy to work with you in advance to order that in. There are a few ways you can go about serving or "hosting" alcoholic and non-alcoholic beverages for your wedding or event.
Hours of Operation for Your Event
For a standard package, your use of the space runs from 8am-11pm for Friday or Saturday weddings, or 11:30am-11pm for Sunday weddings. If you are looking for something a little different, we can work with you to customize times.
Seasons
Peak season runs May-October
Off-Peak season runs November-April
BOOK YOUR WEDDING TODAY!